War in the country is hampering relief efforts. But we can take positive action, says David Miliband, CEO of International Rescue Committee
It is almost a year since an Ebola outbreak was formally declared in the Democratic Republic of the Congos northeastern provinces of Ituri and North Kivu. The current outbreak is DRCs 10th since 1976 and is now the second largest in recorded history, with more than 2,300 confirmed cases and 1,500 dead.
But the DRC outbreak isnt just notable because of its length and death toll. This is the first Ebola crisis in an active conflict zone with dire consequences for the effort to eradicate the disease. The eastern DRC has been caught in a series of successive conflicts since 1994 that have killed more than 5 million people, driven more than 4 million people from their homes, and left 13 million people struggling to feed themselves. That means this Ebola crisis is a humanitarian emergency, not just a public health emergency, and needs to be treated as such. Failure to recognise this will inevitably lead to the failure to control the disease.
Containing Ebola in a conflict zone is more complex, more dangerous, and more challenging than anything the health community faced in the 2014 west Africa outbreak. Operating in a conflict zone brings new dangers, like the burning down of health centres and the 174 attacks this year on Ebola workers by local actors suspicious of anyone with ties to the central government. It brings delicate negotiations with local politicians, community leaders and more than 50 armed groups operating in the area. It brings new imperatives, including operating in a neutral and impartial way to ensure that saving human lives remains paramount. And it brings new concerns about the spread of the disease, as continued violence and forced displacement close to the Ugandan and South Sudanese borders increase the risk of cross-border transmission.
This failure to recognise the unique demands of a conflict zone response explains why the international community has been unable to eradicate the outbreak one year after the first confirmed cases. Despite successfully vaccinating nearly 150,000 people, screening 70 million people, and throwing $50m at the problem between February and April alone, the Ebola crisis has deteriorated significantly since March. My International Rescue Committee colleagues running disease control operations at 50 health centres in the region say there is good reason to fear the problem will continue to get worse, not better, without a strategic reset of the response.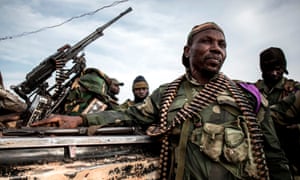 Original Article : HERE ; The Ultimate Survival Food: The Lost Ways